Activator Method Chiropractor Santa Fe, NM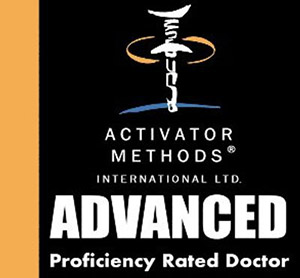 The Activator adjusting instrument works very effectively when used correctly.
If you are looking for the only certified Advanced Proficiency Rated Activator chiropractor in Santa Fe you have come to the right place. The Activator adjusting instrument is the FDA and Medicare approved device used by practitioners for chiropractic adjustments instead of high-force manual adjusting methods. The Activator technique used in our Santa Fe office provides improved comfort and safety to patients of all ages.
Any prior Activator Method chiropractic experience that involved repeated or multiple thrusts with the Activator on each area was not a true experience and would not give an accurate indication if this method is right for you.
The Activator provides a controlled, fast thrust that is comfortable for the patient. In fact, adjustments with the Activator are so quick and measured, the body's muscles are less likely to resist, allowing for a more precise and accurate adjustment.

Patients of all ages and sizes can enjoy the benefits of an Activator adjustment. The controlled, low-force thrust of the Activator Adjusting Instrument, along with the doctor's ability to pinpoint the exact location of the problem, can relieve a patient's pain without the added discomfort that manual adjustments can sometimes bring. Our practice is the only one in New Mexico that uses the Activator exclusively and we are pleased to bring you the Activator Methods Chiropractic Technique.
If you haven't already, you owe it to yourself to try the world's #1 instrument adjusting technique with a chiropractor using Activator in Santa Fe, NM who is certified (There are only six practitioners in New Mexico who are certified) to use it.

Find out more about the Activator Methods Chiropractic Technique by watching the four minute new patient orientation video on Vimeo.